activeCollab is an impressive open source clone of Basecamp. As you can see from the screenshot, it looks remarkably like Basecamp, even down to the navigation being nearly identical.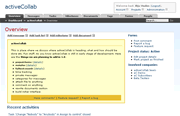 This application has a great deal of potential. I'm a huge fan of Basecamp – whilst activeCollab is clearly missing some of Basecamp's headline features (most notably Writeboards), the fact that it's free and installable on a third-party server is a real boon. As it's open source we're sure to see a host of user-generated add-ons and improvements integrated in the near future.
The release of activeCollab is sure to encourage (force?) 37signals to innovate further to maintain their user base.