As expected, the auction giant has turned the feedback system on it's head. eBay sellers are no longer permitted to leave negative or neutral feedback.
I'd completely forgotten that this change was imminent – I was reminded by this alarming prompt after logging into my eBay account: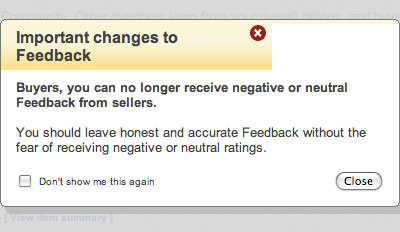 Dave Ebay, founder of the auction beastgorilla, was recently quoted as saying:
"Bollocks to sellers. Damn them all to hell! They can suck a faecal cigar from my ass!"
Well, there you have it.