The acclaimed Selfridges building is arguably Birmingham's most famous landmark after the much maligned (though much loved!) Rotunda. As a former resident of Park Street in Digbeth, I can vividly remember the city before Selfridges landed at the end of Digbeth High Street.
This is the view from my old flat above the Royal George pub (photo taken sometime around February 1999). The car park on the right stands where the Selfridges building is now situated.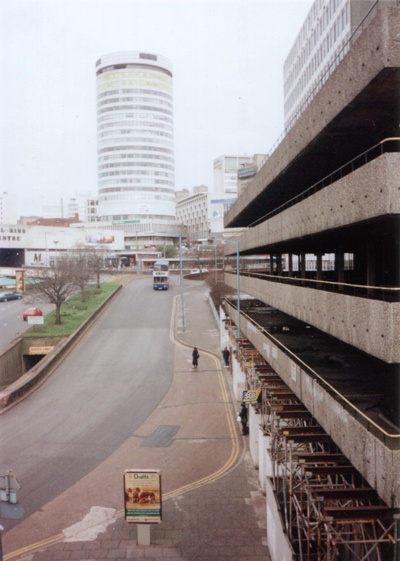 The car park was a charming place. It was abandoned for several years, and eventually became the domain of assorted drug addicts and homeless people. The scene was somewhat reminiscent of the zombie dance scene in thriller, albeit without the well-rehearsed choreography. The subway on the left hand side led to underground parking – I must confess, I was too scared to venture down there after it was condemned.
Fast forward 6 months and the car park is nothing but rubble. The office building to the right soon succumbed to the irresistible charms of the wrecking ball.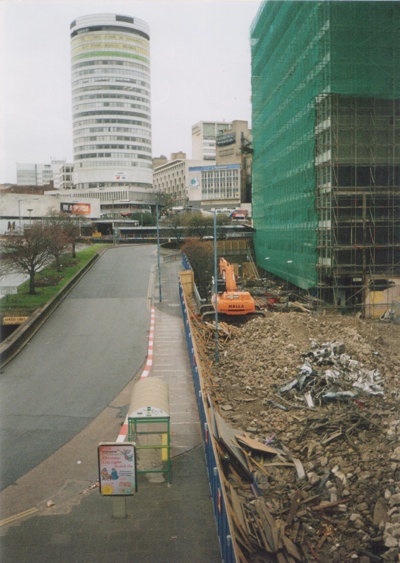 The demolition process mainly happened between 10pm and 3am. I've no idea how or why Birmingham City Council agreed to this, but it proved to be an interesting distraction in the early hours.
The photo below shows the lift shafts from the car park, the last part of the structure to be destroyed. As you can see the wanton destruction was happening alarmingly close (35ft) from my bedroom window, where this photo was taken in July 1999.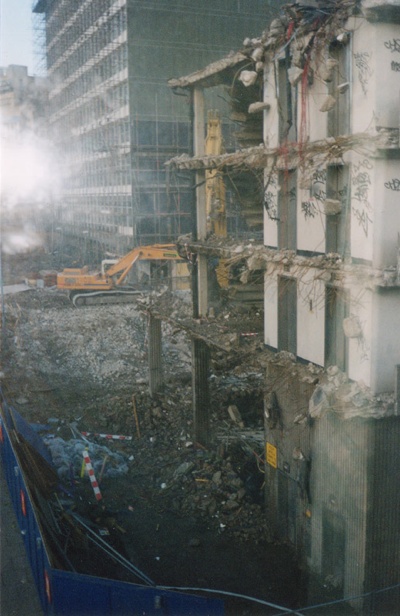 The next photo shows the old subway on Park Street on the right hand side. I'm not sure if it's there now as I haven't been there in years. There was a porn cinema on the opposite side – the idea seems terribly quaint now that the internet is the king of pornography.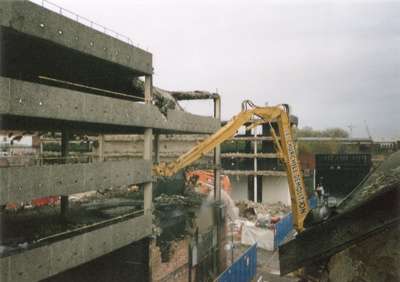 The picture below clearly shows the land that is now occupied by the Selfridges building. You can just about make out Moor Street station (before its extensive refurbishment) on the right hand side.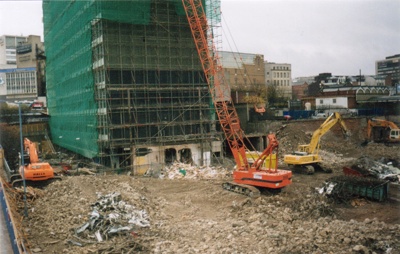 The photo below (courtesy of Flickr) shows the Selfridges building, with Park Street (I think!) leading to the right. It's very hard to tell as the whole area has been completely remodeled since the demise of the old Bull Ring.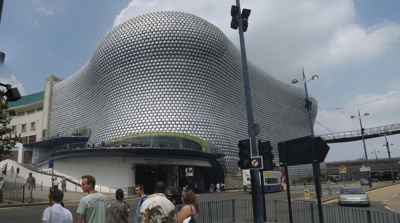 Birmingham has changed beyond recognition in the past decade, but the gritty, industrial underbelly of the city is still thriving on the old streets of Digbeth. No bones about it, Digbeth is still very cool!