An invite to the private beta of Microsoft's user-generated video site Soapbox arrived in my inbox today. A direct rival to Google's YouTube, is Soapbox yet another example of too little too late from Redmond?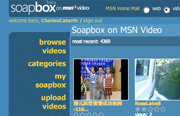 The welcome screen upon login promised much. Soapbox certainly looks more appealing than YouTube: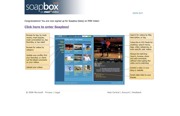 (Click the screenshot above to see a larger version).
Proceeding to the main application interface, I wasn't disappointed. Navigation throughout is a very fluid, Flash-based experience, which works excellently for video-based content.
Searching for content proved very easy: both category selection and free text search were very responsive, and delivered appropriate results. As one would expect from any aspiring Web 2.0 application, all search results are delivered without refreshing the page.
The video player seems more refined that YouTube's: the core controls are simple and clear, and the tools for rating, tagging and sharing content are equally straight forward. However, it does suffer one fairly irritating flaw; the fullscreen link fails miserably in Firefox on OSX, but as this is in beta, it's likely this will be fixed prior to launch.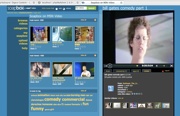 (Click the screenshot above to see a larger version).

Soapbox looks like it could be a real contender. Microsoft are sure to throw their considerable weight behind it, but they'll have a real fight on their hands given YouTube's total dominance in the field of user-generate video.